5 Winter Running Rules I Live By
Memphis was voted the #4 most dangerous city in America by Forbes Magazine. Comforting, right? Safety is something that I've learned to not take lightly and over this past year, I've developed 5 golden rules used to keep myself safe and running throughout the winter.
If you haven't picked up on this by now, I have a severe allergy to the treadmill. Wool, nickel, and running indoors gets me every time. I have a YMCA membership, but most days I avoid it like the plague or use it solely for swimming and strength training. In fact, I probably run there a total of 5 days in a year, which leaves approximately 250 for running outside and perhaps 1/4 of them during the darker months.
Growing up, I was never the worrier. I left that up to my sister, who is still afraid of the basement at our parents house and any morsel of a thunderstorm. Me, I was much more focused on who was giving me attention and how I could get more and had little awareness or fear of my surroundings.
Even if it doesn't come naturally for me to be scared when running alone, in the dark, in the 4th most dangerous city, I would be stone cold naive to think nothing could happen to me. The sense of safety I got running through my suburban neighborhood in Nashville and my college campus in Knoxville no longer applies out here in the less forgiving real world.
Even if you're not in one of the most dangerous cities in the US and maybe not a huge worrier like me, there are weirdos everywhere and it's always a good rule to put safety first.
Sun or group run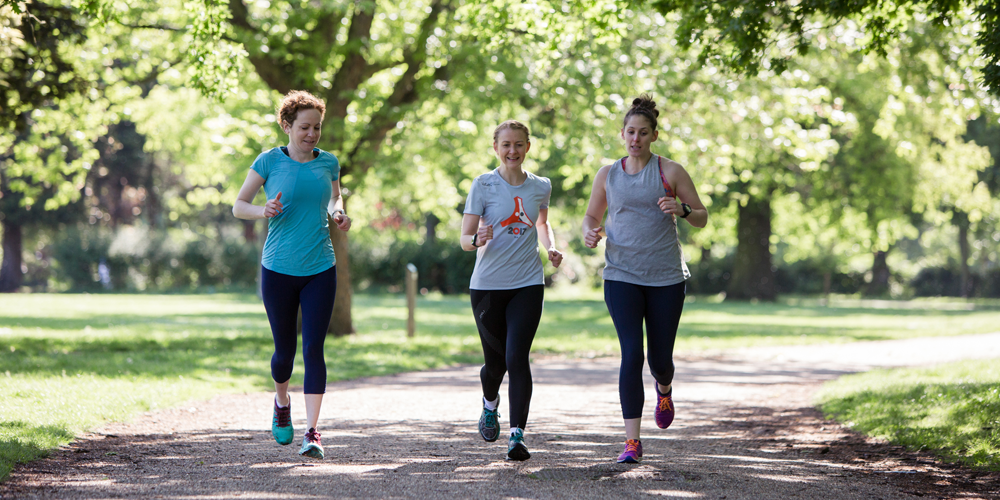 This is so important and I either try to stick to it or at least follow the next four rules religiously. If your job prevents you from making it home to run before sundown, maybe it's time to look into a local running group. I do my best to take advantage of Fleet Feet's bi-weekly group runs or coordinate with a friends when I'm working late.
Inform Someone
Tell someone that you're running, where you're going, and when you'll be back. I hate to admit this, but when I lived alone earlier this year, I was really bad at this until someone at work suggested the Road ID app.
You can send a contact from your phone an "eCrumb" which let's them know when you're leaving for a run and when you'll be done. At the end, it'll alert them that you're finished and made it home safe or ask if you need extra time. It even has the option for that person to track you through GPS on your route. Yes, this is really creepy, but it's also my mom's dream come true.
Choose running route where there people
Or at any odd hours for that matter. Yes, this goes against everything we thought we knew. The entire point of parks and greenways are to facilitate a safe place for people to exercise, but I think this only applies from dawn to dusk. If I have to run by myself, after dark or earlier in the morning, I choose neighborhoods that are more likely to have other pedestrians and street lights. Many neighborhoods around here have hired security guards driving around, which makes me feel very safe. Plus, I always seem to get attacked by an owl every time I'm on the Greenline after dark.
Leave your headphones at home
This goes back to awareness of your surroundings. I suggest bringing your phone for those solo/after hours runs, but save your podcasts and music for safer circumstances. I like to have my phone on me for anything over two hours or if it's dark because I'm more likely to need someone and less likely to be able to borrow someone else's.
Wear it all, the flashier the better
I understand where you're coming from Coco, but this isn't a fashion blog so your rule doesn't apply. My rule is to deck out and light yourself up like a Christmas tree. You can likely find me head to toe in the hot pink variety listed below (who knew I was so girlie?)
Winter Running Must
That's a serious get up! I know I've already shown y'all that vest in my earlier post, but I can't help that it's my favorite thing I own. No, I am not sponsored by Nathan, but it makes me feel like a superhero. Or like I could land a plane. Or at least direct traffic.  
So there you have it, folks my "The Winter Running Rules I Live By" those are some pretty strong words, so please make sure to keep me accountable!
Winter running: outside or on the treadmill?
Are you a worrier?
Do you run in bright colors or keep things neutral?
I have a pretty bland wardrobe aside from my obnoxious running clothes!